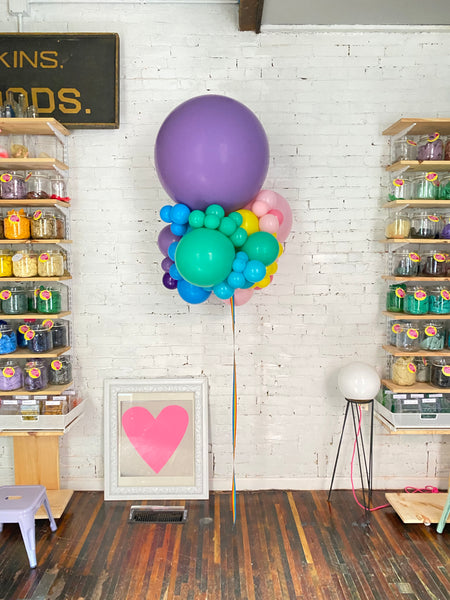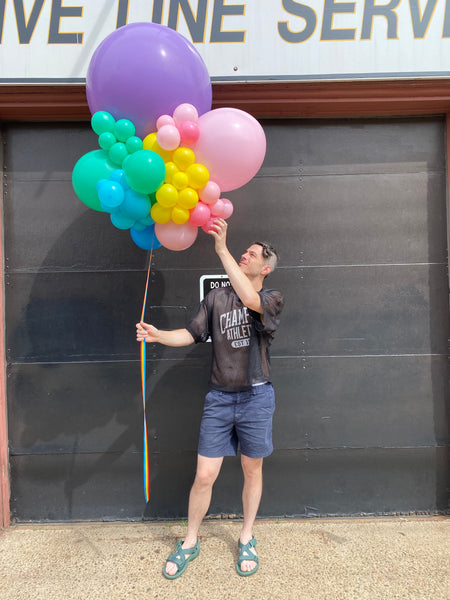 The 'Mini' Floating Organic Cloudburst ✨
Made fresh, daily by the  free range, ethically sourced balloon bunnies & unicorns 🦄at funk|BALLOON , the Floating Cloudburst is roughly 1/4 the size of our smallest garland and nice n' chunky🌈 - 3ish  feets wide x 3ish feets tall x 3ish feets deep - fluffly/bubbly/magical ... with One BIG-ASS Balloon 🥳... Oh yeah - AND it FLOATS 🤯...
Want something bigger that floats!?!? Try the Original Floating Cloudburst! it's a lil' more than double the size of her lil' sis and just as cute😎.
Engineered to be tethered to a weight and look all how y'all like 'em 😘.. basically no installation required.. set it and get back to the party, babe😎. *Cloud float time averages 3 days 🤯, but is only guaranteed for 24hrs*
All Floating clouds are 100% custom - tell us what colors you want when you check out (there's a place to put a note/s).  ***All artwork is made to order and requires a minimum of 24 hours to create, but. can require 48 hours. Please, please plan accordingly. We try to get everything done ASAP, but we're not f'ing wizards*❤️🌈**

Add a unicorn, some numbers, a giant smiley.. whatevs!
             Need a card?  Confetti? Bday Candles?
For orders starting at $100, we offer delivery and 'quick' installation, within a 5 mile radius of our studio in Lawrenceville for $25. **if choosing to have us install, please let us know where you'd like us to install or we'll use our best judgement. You can leave your notes for us in the 'Special Instructions for Seller' section  or in the 'Delivery Instructions' when checking out. Please know install is '10 mins or less' kinda style... on a fence, front door, porch railing, steps railing, bannister... a tack on a wall... ya feel?  If your desired installation location is questionable or you're just not sure, leave us a note when you check out.
About our Balloons:
Gang, we use only THE BEST quality, 100% natural, biodegradable latex balloons, made here in 'merica & Canada... not that garbage from party stores loaded with chemicals, plasticizers & f'ing awful color integrity ..that end up in a landfill.. I mean why?
Balloon Science:
For the freshest balloons, we recommend picking up balloons the evening before or the day of your event (balloons can shrink a lil', they can matte... and sometimes you can have a random one or two that just poops out early). **BALLOONS OUTSIDE are problematic! Keep them out of direct sunlight and away from heat sources or they WILL POP! Again, balloons placed in direct sunlight will pop - FACT! 
Outside balloons should be kept out of direct sunlight.. or they gonna go boom.
Balloons should be kept away from heat sources... or they gonna go boom.
Balloon releases ARE NOT COOL!

 

Our balloons are 100% natural & biodegradable, but they need a minute .. u know, to degrade... biologically - in the meantime, releases can harm wildlife, clog streams and make garbage. Don't be an asshole 😳
**We do not offer refunds on balloons - If your balloons fall early, pop, etc, we do not offer refunds - sowwy, not sorry.  No, but seriously! It happens! We do everything possible to prevent it, but we're not wizards.