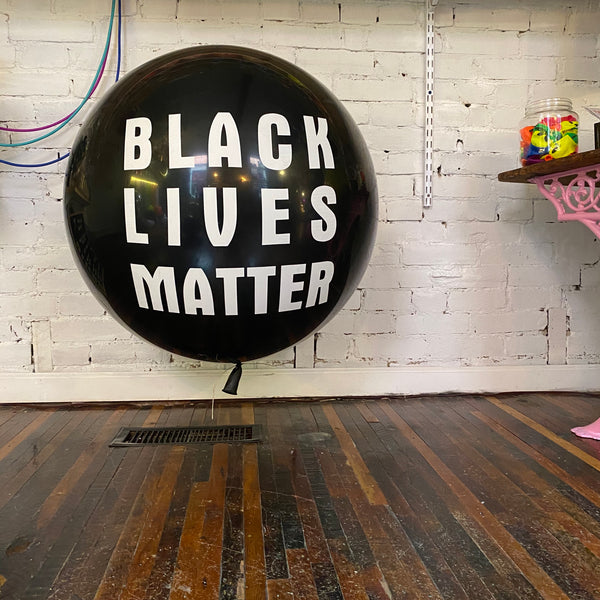 Black Lives Matter 36" BIG-ASS Latex Balloon
Check it, gang!  We've added a custom balloon, designed by the balloon bunnies & unicorns at funk|BALLOON!  
Yup, it's the same fancy-ass line we always use 'cept these are for a cause.  What that means to ya'll?   All proceeds for the sale of these will be donated to several rotating organizations - keep and eye on Von Walter + Funk & funk|BALLOON for where we'll be donating each month.
There's more too, babe!  When you check out, you can add a tip to your purchase - and guess what?!? Yup, those go to the same places!
☝️Balloons include helium and string ***for store pick-up + local delivery, only **  If you just want the balloons (no string or helium), shipped to you, please select that option
We recognize these balloons are a little more than ya'll be used to, but we're trying our darndest to make this process a sustainable model and give as much as we can to these organizations... without going brokesies 😎
More Balloon Stuff:
Big-Ass Balloons? check 'em out here.
Balloons with Swears on 'em? check 'em out here.
Unicorns & Shit? check 'em out here.
Big Shiny Number Balloons? check 'em out here.
Need a weight? check 'em out here.
Need a card? Check 'em out here.
**Balloon Science: For the freshest balloons, we recommend picking up balloons the evening before or the day of your event (balloons can shrink a lil', they can matte... and sometimes you can have a random one or two that just poops out early). **BALLOONS OUTSIDE are problematic! Keep them out of direct sunlight and away from heat sources or they WILL POP! Again, balloons placed in direct sunlight will pop - FACT! 
Outside balloons should be kept out of direct sunlight.. or they gonna go boom.
Balloons should be kept away from heat sources... or they gonna go boom.
Balloon releases ARE NOT COOL!

 

Our balloons are 100% natural & biodegradable, but they need a minute .. u know, to degrade... biologically - in the meantime, releases can harm wildlife, clog streams and make garbage. Don't be an asshole 😳
**We do not offer refunds on balloons - If your balloons fall early, pop, etc, we do not offer refunds - sowwy, not sorry.  No, but seriously! It happens! We do everything possible to prevent it, but we're not wizards.