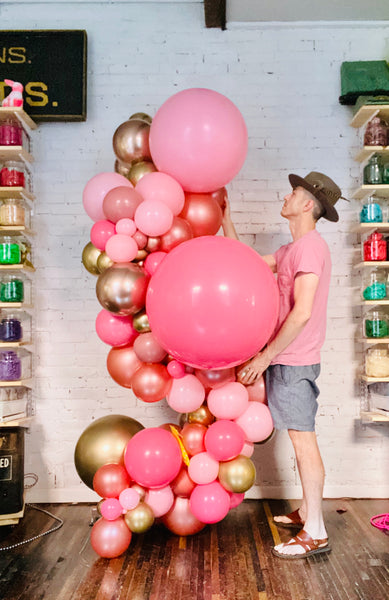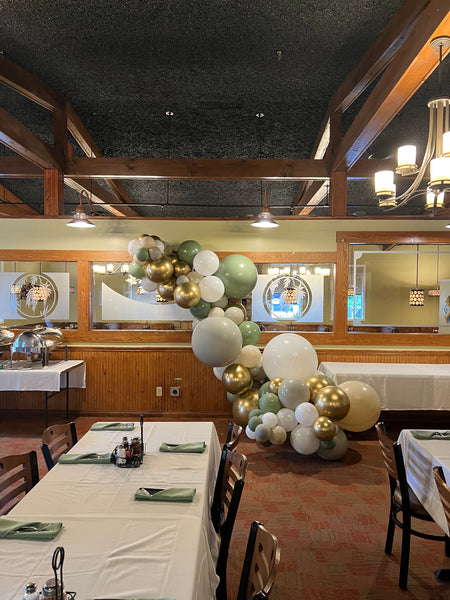 funk|JR Organic Balloon Garland-to-go✨
Check it
Yup, so like basically, funk|BALLOON had a baby... well a jumbo baby, actually 🥳
In addition to our big girl custom installed artwork, we offer a-la-carte organic balloon garland packages for self-installation. These are created by the Balloon bunnies & unicorns 🦄 at funk|BALLOON🌈 with any colors you want. These to-go balloon garlands are pre-assembled and come blown up & ready to hang. Just leave us a note on what colors you want - We'll send you a swatch for approval and then get to work 💪😎.
SIZING
The Jumbo is roughly 12ish feet long and about 3ish feet wide at it's thickest point, and while linear, overall, think garden slug in terms of shape ... about 3x the size of our best seller, the Burst.
SEE OUR WORK IN THE WILD...
____________________________________________
MORE GOOD STUFF TO KNOW 🌈
TIMING
We need AT LEAST a biz day, gang.. at least, but we really like a week.. The sooner the better with these.
WANT 'EM DELIVERED? INSTALLED?
For orders of $100 or more, we offer delivery and 'quick' installation, within a 5 mile radius of our studio in Lawrenceville starting at $25. When you check-out and enter your shipping/delivery address, your delivery and install cost will automatically be calculated.  Delivery is available within a 20 mile radius of our studio. **if choosing to have us install, please let us know where you'd like us to install or we'll use our best judgement. You can leave your notes for us in the 'Special Instructions for Seller' section  or in the 'Delivery Instructions' when checking out. You may also send us a photo to hello@vwfunk.com. Please know install is '10 mins or less' kinda style... on a fence, front door, porch railing, steps railing, bannister... a tack on a wall... ya feel?  If your desired installation location is questionable or you're just not sure, leave us a note when you check out.

A NOTE ON GARLAND SIZE vs. INSTALLED SIZE

Garlands may *not* be exactly 12 feet when installed - Part of the installation process requires the garlands to be bent, bunched, twisted & otherwise fussed over, to compliment the existing installation architecture, and make final artwork to look all how we do 💅 (that's the organic part 😎).. while this means it may lose up to 25% of it's original length, it will increase it's original width & height, proportionately☝️
ADDITIONAL PRICING CONSIDERATIONS
🎈Custom Colors: Not every color in the wild exists as a standard balloon color. We LOVE making custom colors, but we gotsa charge for that. If your colorway calls for a custom color, we'll let you know, but additional custom color pricing is $25/color/garland. 
GONNA DIY? HERE'S THE 411
☝️Installation: Yup, we install them the best, for sure, but if you decide you're going to haul it and install it, we recommend a LARGE SUV or cargo van for pick up... All seats down and get that car seat and your golf clubs outta there! .. and if you're getting more than one, you def. need a cargo van! We also give you suggested tether/anchoring points throughout the structure for installation, as well as additional string to add your own anchoring points.
Add a unicorn, some numbers, a giant smiley.. whatevs!
             Need a card?  Confetti? Bday Candles?
About our Balloons:
Gang, we use only THE BEST quality, 100% natural, biodegradable latex balloons, made here in 'merica & Canada... not that garbage from party stores loaded with chemicals, plasticizers & f'ing awful color integrity ..that end up in a landfill.. I mean why?
Balloon Science:
For the freshest balloons, we recommend picking up balloons the evening before or the day of your event (balloons can shrink a lil', they can matte... and sometimes you can have a random one or two that just poops out early). **BALLOONS OUTSIDE are problematic! Keep them out of direct sunlight and away from heat sources or they WILL POP! Again, balloons placed in direct sunlight will pop - FACT! 
Outside balloons should be kept out of direct sunlight.. or they gonna go boom.
Balloons should be kept away from heat sources... or they gonna go boom.
Balloon releases ARE NOT COOL!

 

Our balloons are 100% natural & biodegradable, but they need a minute .. u know, to degrade... biologically - in the meantime, releases can harm wildlife, clog streams and make garbage. Don't be an asshole 😳
**We do not offer refunds on balloons - If your balloons fall early, pop, etc, we do not offer refunds - sowwy, not sorry.  No, but seriously! It happens! We do everything possible to prevent it, but we're not wizards. 
---