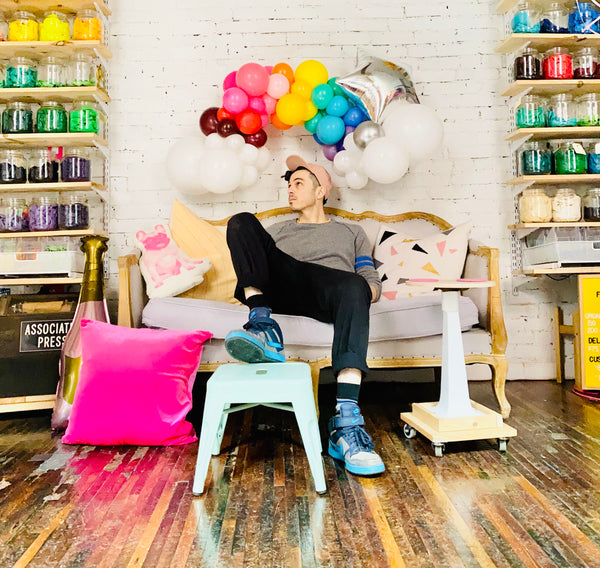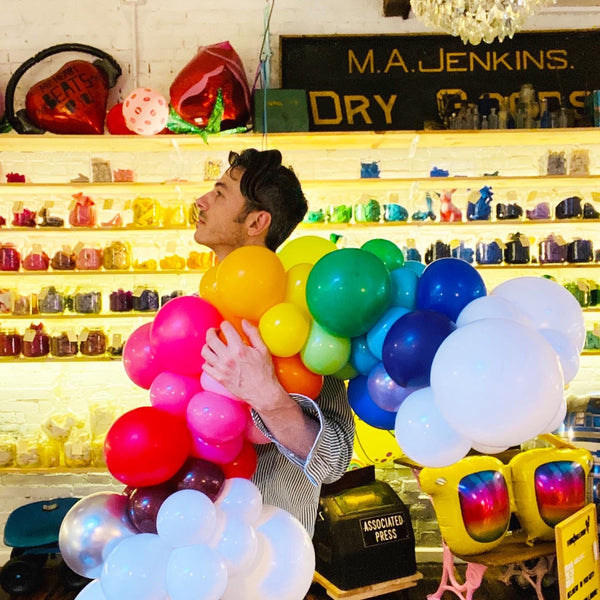 'Bow-To-Go' Organic Rainbow Balloon Arch
Made fresh, daily by free range, ethically sourced unicorns 🦄- This lil' rainbow makes a big impact! All chunky 'n bubbly like how we do 💅 - Bendy, huggable & totally loveable... and CUSTOMIZABLE 🤯.. that's right, choose either the classic or custom and tell us whatcha lookin' for 🤟😎
Introduced in June 2020 as part of the funk|HAPPY collection, just in time for PRIDE 🥳

Anchored on each side with some bubbly clouds, this mini rainbow can stand on her own, be hung on your front door or taped to a wall.
Dimensions: 4ish feet long by about 2ish feet tall & cute AF.
Need it shipped? Yup, we do that too! It's $50 anywhere in the lower 48, gang.
Add a unicorn, some numbers, a giant smiley.. whatevs!
             Need a card?  Confetti? Bday Candles?
For orders starting at $100, we offer delivery and 'quick' installation, within a 5 mile radius of our studio in Lawrenceville for $25. **if choosing to have us install, please let us know where you'd like us to install or we'll use our best judgement. You can leave your notes for us in the 'Special Instructions for Seller' section  or in the 'Delivery Instructions' when checking out. Please know install is '10 mins or less' kinda style... on a fence, front door, porch railing, steps railing, bannister... a tack on a wall... ya feel?  If your desired installation location is questionable or you're just not sure, leave us a note when you check out.
About our Balloons:

Gang, we use only THE BEST quality, 100% natural, biodegradable latex balloons, made here in 'merica & Canada... not that garbage from party stores loaded with chemicals, plasticizers & f'ing awful color integrity ..that end up in a landfill.. I mean why?
Balloon Science:
For the freshest balloons, we recommend picking up balloons the evening before or the day of your event (balloons can shrink a lil', they can matte... and sometimes you can have a random one or two that just poops out early). **BALLOONS OUTSIDE are problematic! Keep them out of direct sunlight and away from heat sources or they WILL POP! Again, balloons placed in direct sunlight will pop - FACT! 
Outside balloons should be kept out of direct sunlight.. or they gonna go boom.
Balloons should be kept away from heat sources... or they gonna go boom.
Balloon releases ARE NOT COOL!

 

Our balloons are 100% natural & biodegradable, but they need a minute .. u know, to degrade... biologically - in the meantime, releases can harm wildlife, clog streams and make garbage. Don't be an asshole 😳
**We do not offer refunds on balloons - If your balloons fall early, pop, etc, we do not offer refunds - sowwy, not sorry.  No, but seriously! It happens! We do everything possible to prevent it, but we're not wizards. 
---