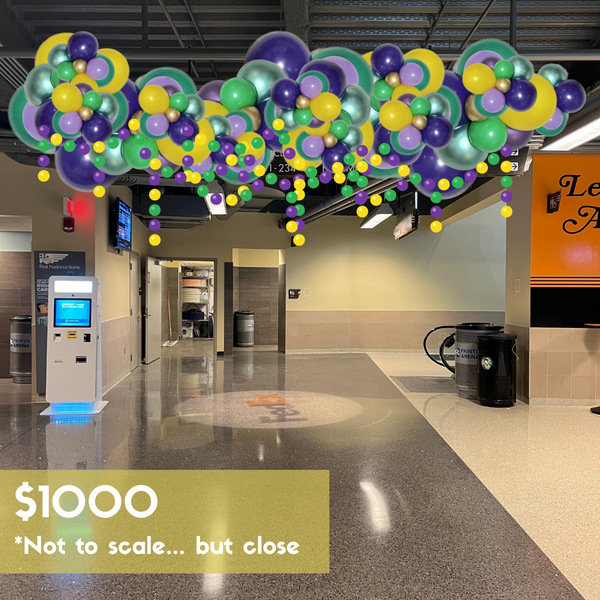 Night of Assists Custom Balloon Installation - Job ID: 022123joemineoCR
Thank you for your interest in a funk|BALLOON 🌈 custom Organic Balloon Art Installation!
Please read through this listing, carefully and let us know if anything is incorrect for your event. 
ARTWORK:
Will be installed as pictured in this listing - Adding real Mardi Gras bead garlands over the front of the hockey mask and hanging from the artwork in the middle installation, as pictured.  Adding 2 decals to to 2 balloons in hockey mask artwork - one decal for the Pens and one decal for Highmark, each on a different balloon.
COLORWAY: 
Emerald, Spring Green, Chrome Green, Lavender, Chrome Purple, Violet, Classic Yellow + Chrome Gold - Mardi Gras Theme 🕺 
(* denotes a custom color - custom colors are an upcharge of 10% of the overall art cost/color).
INSTALLATION & SET-UP:
Installation will occur on Tuesday Feb. 21st, 2021 at 10am (event to begin at 6pm) at PPG Arena & will take roughly 6ish hours to complete. 
 PRICING BREAKDOWN:
ARTWORK

 

(4J + 8B)

, 

delivered & installed - $2890

Site Visit (does not reserve your date - 50% applied to balance due) - $150 (paid 1/19/23) - $75 Credit to final artwork cost.
Custom Decals - x2 - $60/ea - $120
Next Day Strike - $150
 TOTAL: $ 3,085.00
_________________________________________________________________________
🌈 Take Down
After the event, funk|BALLOON will strike the installation, the following morning, Wednesday 2/22/23 @ 10am and will take roughly one hour.
____________________________________________________________________
🌈 Cancellations
** Cancellations 2 weeks to your event are non-refundable, but the amount paid may be used to reschedule - Cancellations 30 days to your event are refundable at 50%, less 15% restocking fee ** Site Visits & 50% of the total amount paid are never refundable ** By completing this purchase, you agree to these terms. **
_________________________________________________________________________
🌈 Other Stuff to Know
**funk|BALLOON is not responsible for popped, shriveled or vandalized balloons - No artwork is guaranteed, but outside artwork can be problematic due to weather, heat, wildlife, sharp things & mean people.. balloons may pop, shrivel or matte/oxidize - funk|BALLOON does everything possible to mitigate this, but please know that it is not totally unavoidable & funk|BALLOON does not guarantee the lifespan of any installation**