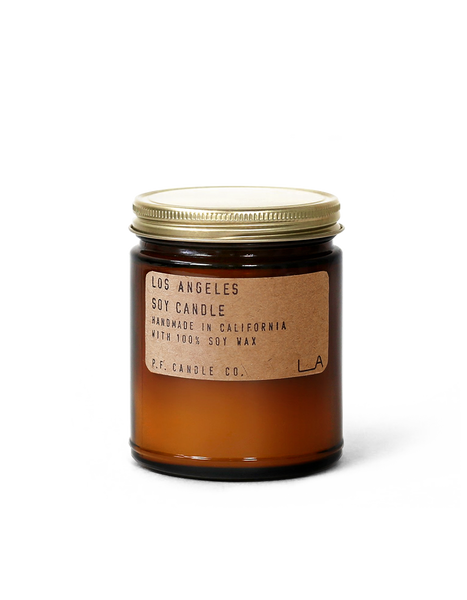 Los Angeles Soy Candle from P.F. Candle Co.
New to Von Walter & Funk from P.F. Candle Company! 
As complex and rebellious as its hometown, Los Angeles wraps a warm, woody base with night blooming jasmine, unfolding a luxe fragrance with earthy undertones. Rejuvenating notes of sea salt, coastal sage, and deeply herbaceous yarrow reveal a magnetic heart. 
Created in collaboration with the Mayor's Fund of Los Angeles for LA Original, an initiative showcasing the city's vibrant community of makers and manufacturers. 20% of proceeds will benefit the Downtown Women's Center, who are dedicated to helping women transition out of homelessness. 
Top: night blooming jasmine, dry desert air, lime
Heart: sea salt, coastal sage, yarrow
Base: redwood, sea salt, beachwood
Our standard soy candles are hand-poured into apothecary inspired amber jars in our Los Angeles, CA studio. 
Ingredients: 100% natural soy wax, phthalate-free premium fragrance oil, cotton wick. 
Burn Time: 40-50 hrs. 
Size: 7.2 oz, 2.75" x3.75"

+Trim your wick to 1/4" before each lighting.

+Allow the melted wax pool to reach the edges of the jar before extinguishing to prevent wax from building along the sides of the jar and tunneling, especially with 14 oz. double-wick candles.

+We recommend burning for approximately 3 hours at a time, though no longer than 4 hours.

+Never leave a candle burning unattended or within reach of drafts, pets, or small children.

+Candle jar will be hot after burning, so allow wax to cool completely before handling.