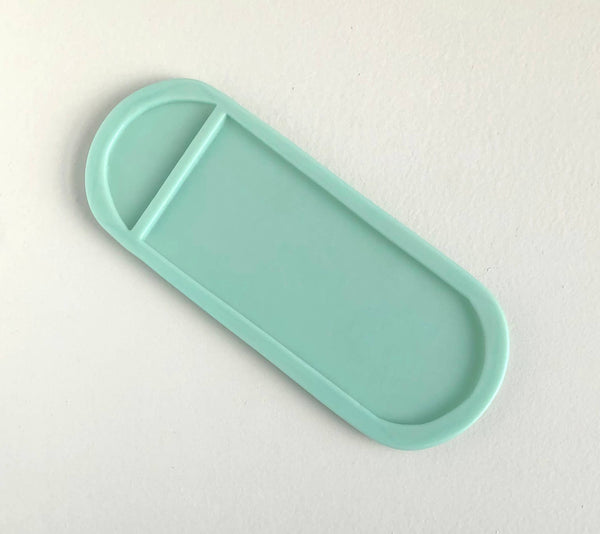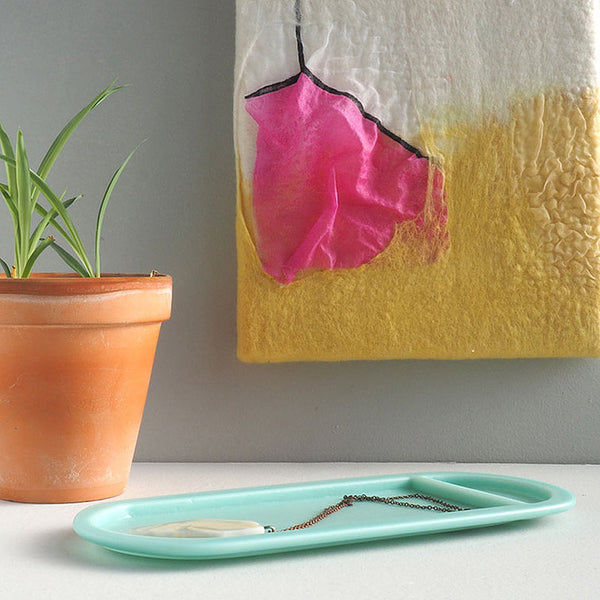 Fused Glass Tray -Pistachio
 Fused glass crafted form, pure minimalist color and pragmatic function. Taking inspiration from contemporary Scandinavian design and the Swedish concept of 'lagom', meaning "just right", these trays are a perfect accent to elevate your home decor with minimalist style. Each one is a considerately designed object to help you live a more conscious life.
 Outer Dimensions: 4.25"x10.25"x.25"
 How They're made: These handmade fused glass trays are carefully created through multiple firings in an electric kiln. First, two layers of sheet glass are fused together at 1500 degrees for durability. The piece is then re-fired into a handmade mold to the melting point to shape the tray. after the second firing, the piece is sandblasted. The final kiln firing is at a lower temperature to seal the glass and give it a soft, satin "fire polish". Our glassware is food safe and durable, but we do recommend hand washing and no microwaving. As each piece is handmade some slight variation is possible. Each piece of glassware is handmade in Pittsburgh, PA.