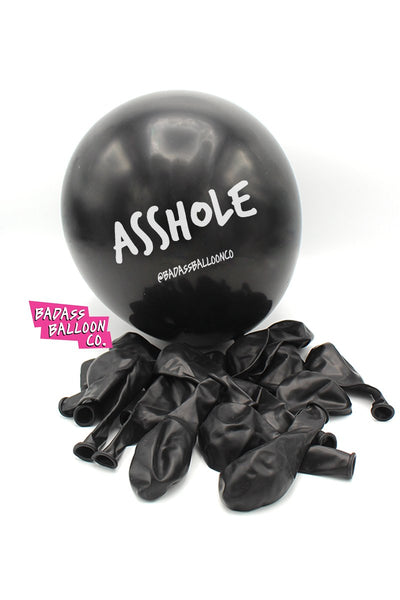 Rude-Ass Balloon Party Pack - 'Asshole'
Are you a badass?  ...Same.
These hilarious message balloons transcend the function of simple party decorations by doubling as super fun social media props. 

Design: 5-pack 'ASSHOLE' Ballon Party Pack



•Natural latex balloons
•100% Biodegradable
•12 inch, 3.2g balloon
•Helium grade
•Assorted Colors (these are pre-pkd, so we're unable to do specific colors, but normally the colors are white, blue, tangerine, pink & black... but not always)
•5 Pack

*Please note that the photos above are for illustration only and the final product colors may vary, as the colors on your computer screen will read differently than the colors that will print. *Pricing includes helium & string*

Latex balloons will last around 7-10 hours, dependent upon the grade of helium used. Balloons may last longer if Hi-Float solution is used. 
Legal Shit:
WARNING! CHOKING HAZARD: Children under 8 yrs can choke or suffocate on uninflated or broken balloons. Adult supervision required. Keep uninflated balloons from children. Discard broken balloons at once.