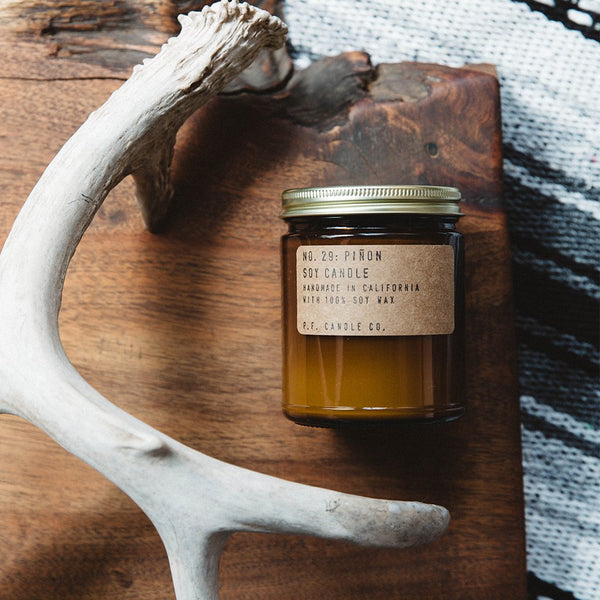 Piñon Candle from P.F. Candle Co.
This scent captures the essence of the Piñon Pine, a coniferous staple from the American Southwest. Earthy notes of pine and balsam fir balance resinous amber and spicy black pepper. Light vanilla and smoky cedar wood add warmth and familiarity. This scent feels like an old friend: cultivated but intimate.
Top: pine, balsam fir
Heart: amber, black pepper
Base: vanilla, cedarwood, cinnamon

P.F. Candle Co. keeps their ingredients simple: 100% domestically grown soy wax, fine fragrance oils, and cotton-core wicks. Their candles are hand-poured into apothecary inspired amber jars, and finished with a utilitarian label and twist-on brass lid. All of their candles are designed, produced, and shipped from their Los Angeles studio. 

Vegan and cruelty-free (never tested on animals). 
Our standard soy candles are hand-poured into apothecary inspired amber jars in our Los Angeles, CA studio. 
Ingredients: 100% natural soy wax, phthalate-free premium fragrance oil, cotton wick. 
Burn Time: 40-50 hrs. 
Size: 7.2 oz, 2.75" x3.75"

+Trim your wick to 1/4" before each lighting.

+We recommend burning for approximately 3 hours at a time, though no longer than 4 hours.

+Never leave a candle burning unattended or within reach of drafts, pets, or small children.

+Candle jar will be hot after burning, so allow wax to cool completely before handling.