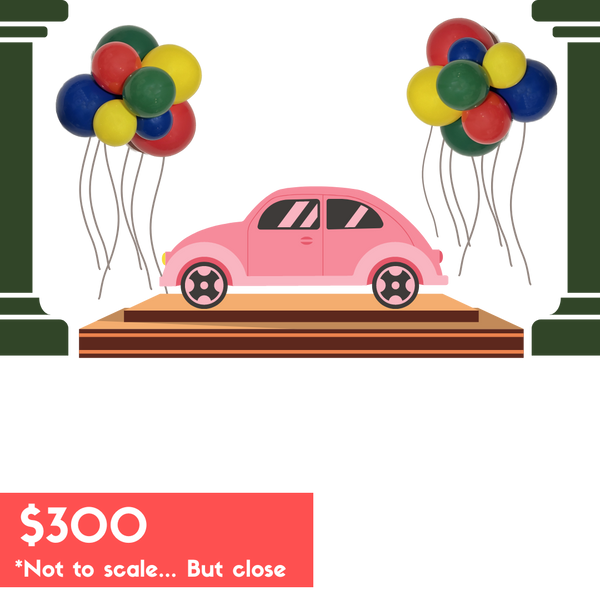 Heinz HC Uncorked Custom Balloon Installation - Job ID: 030323HEINZHC
Regular price
$ 3,000.00
Sale price
$ 2,100.00
---
Thank you for your interest in a funk|BALLOON 🌈 custom Organic Balloon Art Installation!
Please read through this listing, carefully and let us know if anything is incorrect for your event. 
ARTWORK:
Will be installed as pictured in this listing. The great hall will have two clusters of cloudbuster balloons with extra long strings to the ground. On Mueller, artwork will surround the DJ 8x8 station, as tight as possible so as not to exceed a 3 foot perimeter. It will tumble and meander, peaking both high and low as it surrounds the booth. On the back, there will be a removable balloon panel for the DJ to exit and enter the stage. Also using some lighting trusses to creep artwork up a little above head on 2 corners of the DJ booth.
COLORWAY: 
Basically rainbow classic - Red, Orange, Yellow, Lime, Wintergreen, Aqua, Robin's Egg, Lilac and Violet 🌈
(* denotes a custom color - custom colors are an upcharge of 10% of the overall art cost/color).
INSTALLATION & SET-UP:
Installation will occur on Thursday 3/2/23 & 3/3/23 at 10am (3/2 + 3/3) at Heinz History Center & will take roughly 4 hours/day to complete. 
 PRICING BREAKDOWN:
ARTWORK

(6j, 2B)

, 

delivered & installed - $2700

Cloudbuster Bouquets 

(8f, 6f, 4f, 3-3f, 3-2f (x2))

, (grand hall artwork) - $300
Site Visit (does not reserve your date) - $150  - Waived
Strike Fee (next day) - $150 - Waived
 TOTAL: $3,000, Less 30% = $2,100.00
_________________________________________________________________________
🌈 Take Down
After the event, funk|BALLOON 

will

strike the installation, at no charge, the following Saturday morning, 3/4/23 @ 9am.
____________________________________________________________________
🌈 Cancellations
** Cancellations 2 weeks to your event are non-refundable, but the amount paid may be used to reschedule - Cancellations 30 days to your event are refundable at 50%, less 15% restocking fee ** Site Visits & 50% of the total amount paid are never refundable ** By completing this purchase, you agree to these terms. **
_________________________________________________________________________
🌈 Other Stuff to Know
**funk|BALLOON is not responsible for popped, shriveled or vandalized balloons - No artwork is guaranteed, but outside artwork can be problematic due to weather, heat, wildlife, sharp things & mean people.. balloons may pop, shrivel or matte/oxidize - funk|BALLOON does everything possible to mitigate this, but please know that it is not totally unavoidable & funk|BALLOON does not guarantee the lifespan of any installation**