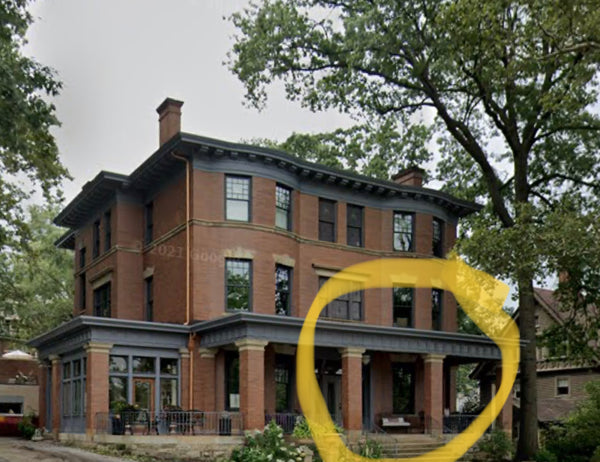 Good Custom Balloon Installation - Job ID: 042923GOOD
Thank you for your interest in a funk|BALLOON 🌈 custom Organic Balloon Art Installation!
Please read through this listing, carefully and let us know if anything is incorrect for your event. 
ARTWORK:
Will be installed roughly has pictured in this listing. Photo one is the actual home and location for artwork - photo two is an install previously done that this install will mimic for location and layout.
Installation will require access to the porch roof via one of the 2nd story windows.
COLORWAY: 
Shades of blue and some pops of sparkle - Dark Blue, Sea Glass, Robin's Egg, Pearl Azure, Gray, Chrome Gold ✨  & Chrome Silver ✨ 
(* denotes a custom color - custom colors are an upcharge of 10% of the overall art cost/color).
INSTALLATION & SET-UP:
Installation will occur on Saturday April 29th, 2023 at 2pm (event to begin at 7) at 121 Woodland Rd/15232 & will take roughly 3ish hours to complete. 
 PRICING BREAKDOWN:
ARTWORK

(4J, 2B)

, 

delivered & installed - $1900

Site Visit + Rendering (does not reserve your date, but $75 is applied to your balance due) - $150 - N/A
Admin Fee

(10% of artwork cost)

- $100
Strike/Take Down

($300/same day/night or $150/next day)

- $150 (will have to happen on Monday 5/1 @ 10am)
 TOTAL: $2,150.00
_________________________________________________________________________
🌈 Take Down
After the event, funk|BALLOON 

will

strike the installation, on Monday morning, 5/1 @ 10am and will take roughly 1 hour.
____________________________________________________________________
🌈 Cancellations
** Cancellations 2 weeks to your event are non-refundable, but the amount paid may be used to reschedule - Cancellations 30 days to your event are refundable at 50%, less 15% restocking fee ** Site Visits & 50% of the total amount paid are never refundable ** By completing this purchase, you agree to these terms. **
_________________________________________________________________________
🌈 Other Stuff to Know
**funk|BALLOON is not responsible for popped, shriveled or vandalized balloons - No artwork is guaranteed, but outside artwork can be problematic due to weather, heat, wildlife, sharp things & mean people.. balloons may pop, shrivel or matte/oxidize - funk|BALLOON does everything possible to mitigate this, but please know that it is not totally unavoidable & funk|BALLOON does not guarantee the lifespan of any installation**