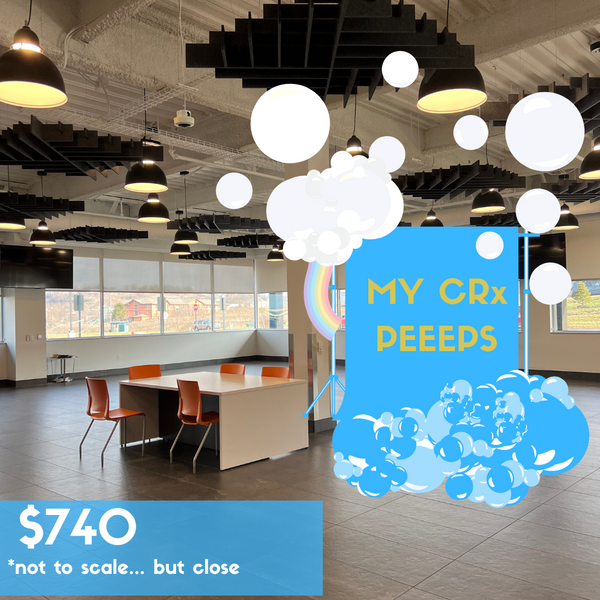 CONNECTIVErx Custom Balloon Installation - Job ID: 031623CRX
Regular price
$ 150.00
Sale price
$ 2,065.00
---
Thank you for your interest in a funk|BALLOON 🌈 custom Organic Balloon Art Installation!
Please read through this listing, carefully and let us know if anything is incorrect for your event. 
ARTWORK:
Will be installed as pictured in Two Sections:
The Purple Experience - Highly immersive photo opportunity. Adding 1 Logo Cling to a strategic balloon in the air-filled artwork. Adding 1x eight foot Purple Cloudbuster balloon to this artwork as well as 30 mixed size (36", 24" + 16/17/18/19") balloons to suspend from the ceiling at different heights, etc.. very groovy.
The Blue Experience - This will be a photo opp. sky blue backdrop (8x10). Shades of skyish blue balloons will be installed in front of the backdrop, slumped on the floor (secured with gaffer's tape), all chunky and bubbly how we do. Additionally, suspending 10 or so mixed size (36", 24" + 16/17/18/19") balloons from the ceiling at different heights and one classic Burst, in white and pearl white. Adding pastel rainbow ombre drippies to the cloud :)
Adding 2 purple helium-filled 36" balloons, with bougies, weights and decal/clings of the Connective Rx Logo in white.
COLORWAY: 
1 - Shades of Purple - Violet, Lilac, Lavender.

2 - Blue Experience - Shades of sky blue on the floor in front of the backdrop + A mix of white and pearl white for the Cloudburst, overhead. Adding pastel rainbow ombre drippies to cloud. Adhering 11 gold letter balloons to backdrop to read:
MY CRx
PEEEPS
(* denotes a custom color - custom colors are an upcharge of 10% of the overall art cost/color).
INSTALLATION & SET-UP:
Installation will occur on Wednesday 3/15/23 at 10am at 6000 Parklane Dr./Coraopolis & will take roughly 4ish hours to complete. 
 PRICING BREAKDOWN:
ARTWORK

(4J, 3B)

, 

delivered & installed - $1,650

Field of Ceiling Balloons - $85
Letter Balloons (10 36" + 1 17", Gold) - $165
Helium Filled Decal Balloons (x2, @ $100/ea) - $200
Decals (x1 @ $40/ea) for air-filled artwork - $40
Site Visit (does not reserve your date, $75 is applied to your balance due) - $150 - PAID
 SubTOTAL: $2,140 (less $75 Site Visit Credit):
TOTAL DUE: 2,065.00
_________________________________________________________________________
🌈 Take Down
After the event, funk|BALLOON will *NOT* strike the installation, unless requested - Pricing can vary depending on size and location, but generally the cost for striking artwork is $300 for the same night/day and $150 for next day tear down.
____________________________________________________________________
🌈 Cancellations
** Cancellations 2 weeks to your event are non-refundable, but the amount paid may be used to reschedule - Cancellations 30 days to your event are refundable at 50%, less 15% restocking fee ** Site Visits & 50% of the total amount paid are never refundable ** By completing this purchase, you agree to these terms. **
_________________________________________________________________________
🌈 Other Stuff to Know
**funk|BALLOON is not responsible for popped, shriveled or vandalized balloons - No artwork is guaranteed, but outside artwork can be problematic due to weather, heat, wildlife, sharp things & mean people.. balloons may pop, shrivel or matte/oxidize - funk|BALLOON does everything possible to mitigate this, but please know that it is not totally unavoidable & funk|BALLOON does not guarantee the lifespan of any installation**